Ev Introductions to Pitching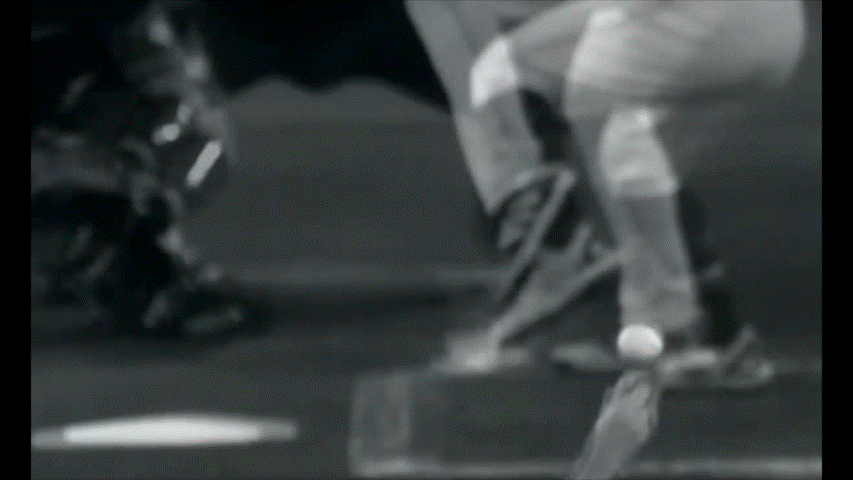 Effective Velocity Tunnels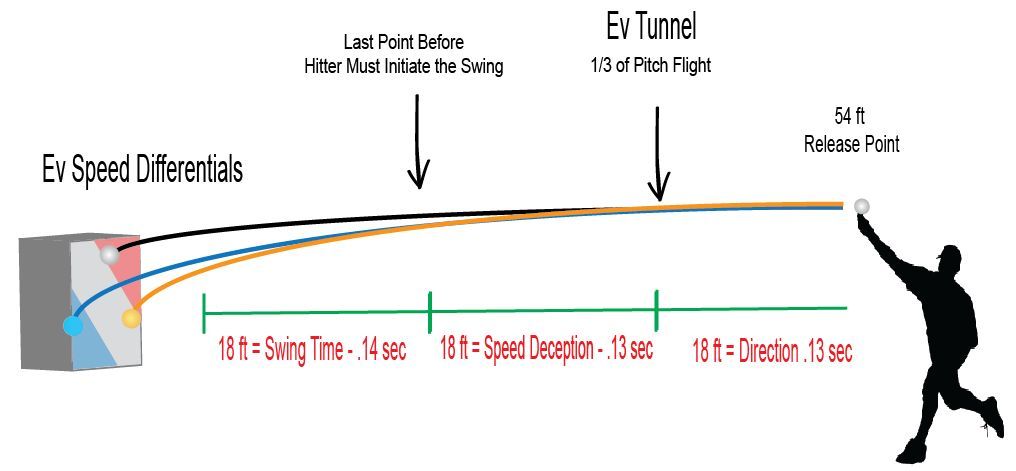 Ev Tunnels are defined as 2 or more pitches sharing both a horizontal and a vertical plane for at least 18 feet out of the hand.  
1st 18 feet hitters see Pitch Direction
Hitters recognize Up/Down/In/Out
Hitters begin to see spin at the end of 18 feet
The second 1/3 of pitch flight begins at 18 feet out of the hand and goes to 36 feet, the time when the swing has to start to be on time to a 95 MPH fastball. 
Hitters see Pitch Spin 
Hitters see 'Shape' caused by movement
Hitters see Speed   
The last 1/3 of pitch flight begins at 36 and now is the time when the swing has to start to be on time to a 95 MPH fastball.
Hitters take about .133 to .150 seconds to swing
Very little adjustability left in the last 18 feet
Pitches in an Ev Tunnel through 36 feet have 100% Tunnel Deception
Building Your Most Deceptive Pitch Arsenal
Ev Ecosystem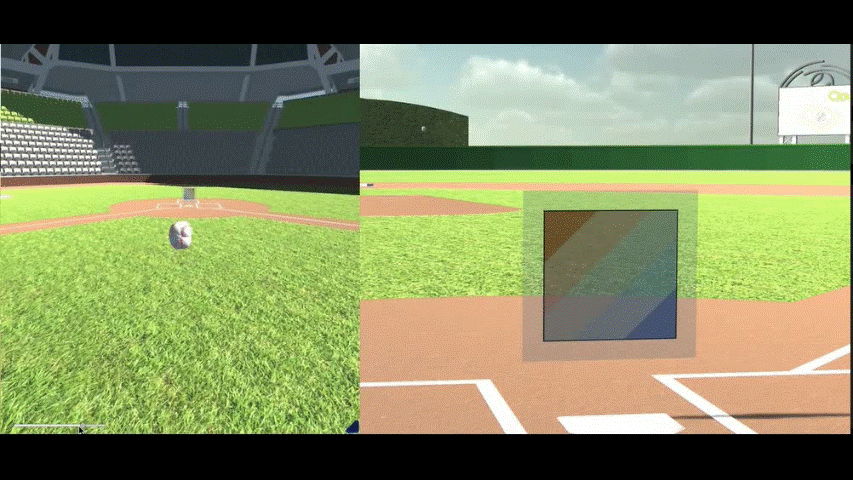 50% of Hard Contact Happens on Pitches Within 6 EvMPH of Each Other.  Ev Speed Differentials Limit Accidental Contact
Image by BaseballCloud
20% of Hard Contact Happens on Pitches Without Ev Tunnel Deception
20% of Hard Contact Happens on Pitches Thrown in the Hitters' Attention Speed Range 
10% of Hard Contact Happens on Pitches that are Ev Efficient

Ron Wolforth
"I'm an old history teacher. In the history of man some innovations were so revolutionary that they
forever changed the course of history. I believe Perry's study and innovation of EV is changing and will change the game of baseball…it has certainly changed the way we attack hitters at Pitching Central. Every day we have a choice. We can choose to stay current and ride the wave as the change alters the landscape…or stubbornly choose to be the cynic and swear the earth is flat…and be at the bottom of the wave when it moves through. Regardless, an innovation of this magnitude will affect us either way."
Ron Wolforth
Author of the Combat Pitcher- Preparing the Next Generation of Pitchers for Battle
CEO Pitching Central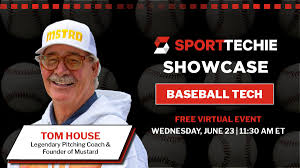 Dr. Tom House
Tom introduced Ev Tunnels to Japan & Korea before the 1st World Baseball Classic and these were the 2 best pitching teams that year……besting the top teams in the world.
Foreword From Downright Filthy Pitching Book 1
I was both flattered and proud when Perry Husband asked me to write the foreword for Downright Filthy Pitching: The Science of Effective Velocity. This book is actually the first written material explaining a new way to look at how a hitter tries to match his bat speed to a pitcher's pitch speed and location. He has working
on identifying and quantifying these phenomena for two years. Just being involved in the development of a new pitching concept, with the strategies and tactics to back it up, would have been enough but this foreword gives me a forum to chronicle how a hitting guy came up with something that actually helps pitchers!
So here goes.
"He knows how to pitch". These five words are the ultimate compliment to any pitcher who has mastered his craft.
As an ex-major league pitcher and pitching coach who currently instructs with information researched at our *NPA Motion Analysis Lab, I am always looking for ways to improve a pitcher's performance. We've known for years that pitchers must have enough real velocity (actual MPH's) and/or perceived velocity (where release point distance can affect the perception of real velocity …one foot of distance = 3 MPH) to compete at
higher levels. We know that elite pitchers locate, change speeds, and have late ball movement.
We also know elite pitchers must throw three pitches (fastball, breaking ball, change-up) to at least two locations (inside, outside) to compete successfully at higher levels. Obviously, commanding another pitch or two (cutter, split finger) to another location or two (up and in, down and away) is a bonus. What we didn't understand about elite pitchers (until Perry's R & D) is how to quantify their intuitive feel for putting all these pitching pieces together.
That's what Filthy is all about….matching up real velocity, perceived velocity, and effective velocity with different pitches to different locations using a measurable protocol that will minimize a hitter's chance to make solid contact. "It's a must read for every pitcher or pitching coach who wants to perform at the higher levels of competition. It's also a must read for every hitter or hitting coach who wants to perform at the higher level.
The answer is obvious. There's something in this book for everybody in baseball."
Tom House
First 100 Memberships Get a Lifetime Price Guarantee
Advanced Pitching Membership
Weekly Zoom Meeting for Q & A – Ev Presentations
Weekly Updated Videos of New Studies & Techniques
Re-Caps of Key Outings for Advanced Sequencing
Ev Pitch Design Video Library
Advanced Ev Course
Advanced Science of Sequencing
Advanced Look at 2017 Post Season Pitching
50 + Hours – Membership Video Library
Ev Introductions to Hitting
We Introduced
Exit Velocity
+
Launch Angle
eV = Exit Velocity + Launch Angle
2001 we released the Hitting Is A Guess Video series with Jay Bell, 17 year MLB veteran.  This was the 1st time Exit Velocity (eV) was added to Launch Angle to reverse engineer swings.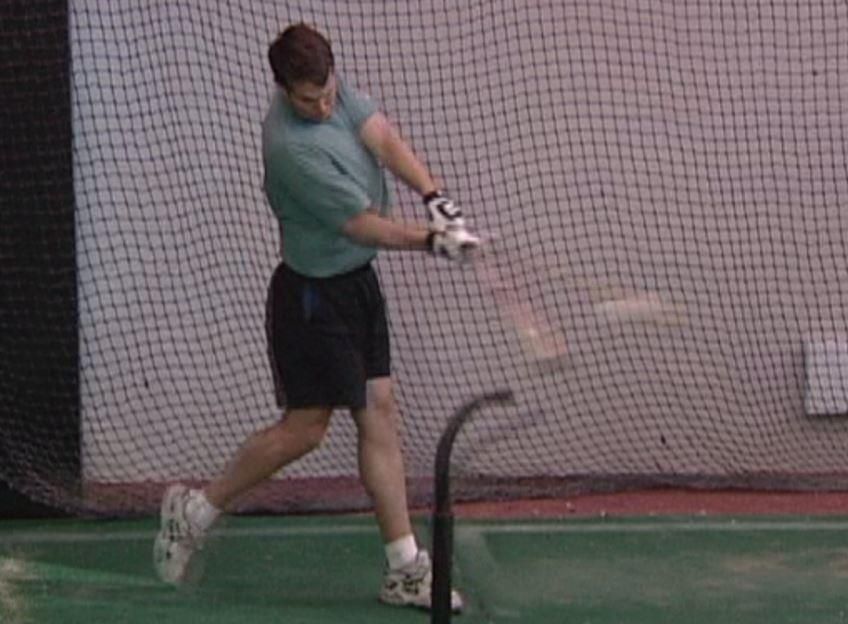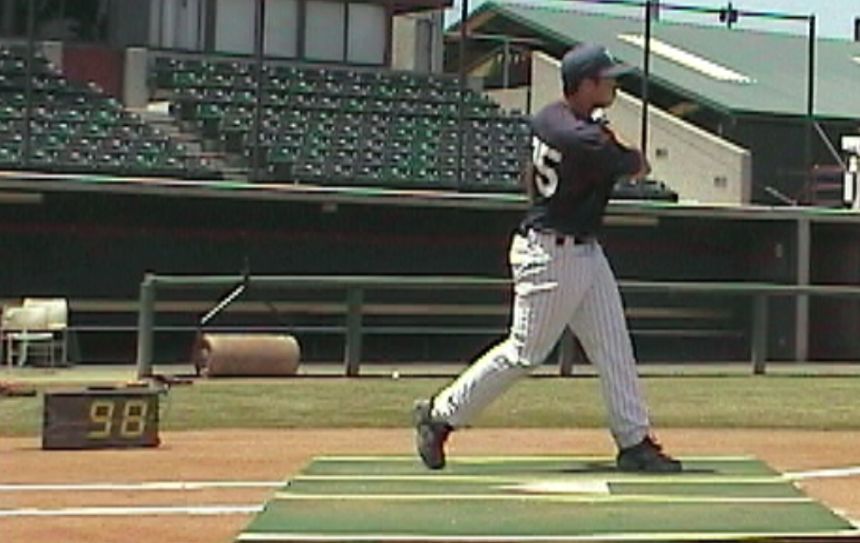 Discovery of
Pitch Recognition Skill Testing & Training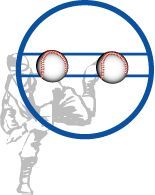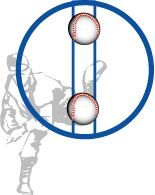 Reactionary Quickness Testing
We tested to see what hitters could 'React To' and more importantly………..what they 'Could Not React To'.  
After the Visual Testing & Reactionary Quickness Testing we wanted to double verify the results so we did a 24 week At Bat Experiment.  25 high school age hitters split into 5 groups, one for each night of the week.  We saw well over 100 at bats every night with the same pitcher type each week.  600 plus at bats versus the same pitcher type so we could compare group results each week against that one pitcher type every night.  
First 100 Memberships Get a Lifetime Price Guarantee
Advanced Hitting membership
Weekly Zoom Meeting for Q & A – Presentations
Weekly Updated Videos of New Studies & Drills
Re-Caps of Key Outings for Advanced Sequencing
Advanced Time Training Course
Advanced Hunting
Advanced Pitcher Profiling
Monthly Video Analysis